Explore
San Francisco In The Movies
San Francisco is the set of hundreds of movies for the same reason it's one of the most popular tourist destinations in the world: practically all of its backdrops are uniquely stunning.
They're also diverse enough that a film crew can traverse a startling array of distinct environments, moods, and realities all within a few blocks of each other. And then there's the personality of the town itself: a righteous leader, a playful rule-breaker, a relentless beauty, a ruthless landlord.
It's all happening in San Francisco, so it's not surprising that the sentiment is echoed in the movies set or about the world-famous City by the Bay.
Watch any or all of these notable films to get some good old fashioned entertainment while reminiscing the city's past, discovering where to explore next, and finding yet another reason to fall in love with the ever-changing, ever-heartbreaking city of San Francisco.
Trips to Alcatraz
A picturesque 1.5-mile ferry ride from downtown San Francisco, Alcatraz Island is so steeped in history and lore, it remains the city's number-one tourist attraction to this day. Its past is intriguing; since the U.S. government acquired it in 1849, it's been the location of the first lighthouse on the California coast, a fort, a military prison, a location of Native American occupation in the name of freedom and Native American civil rights, and most infamously, a maximum security federal penitentiary housing notorious criminals such as Al Capone and George ("Machine Gun") Kelly.
But its Hollywood moment arrived with the 1979 film, Escape From Alcatraz. Starring Clint Eastwood, it's a fictionalized retelling of three real prisoners who escaped the allegedly escape-proof "Rock" never to be seen again. Never mind that the film makes "hard time" look like a visit to the jail in Andy Griffith's Mayberry. It's also a long, leisurely tour of the island, its prison, and of one of its most notable still-unsolved mysteries.
Incidentally, Alcatraz got its second 15-minutes of fame with the 1996 Michael Bay thriller, The Rock, starring Sean Connery, Nicholas Cage, and Ed Harris. Here, the island becomes ground zero for a standoff between a group of rogue U.S. Marines and the U.S. government. Along with more time on the Rock, viewers get to linger in the Fairmont San Francisco penthouse and at the gorgeous, 1915 Panama-Pacific-exhibition-built Palace of Fine Arts.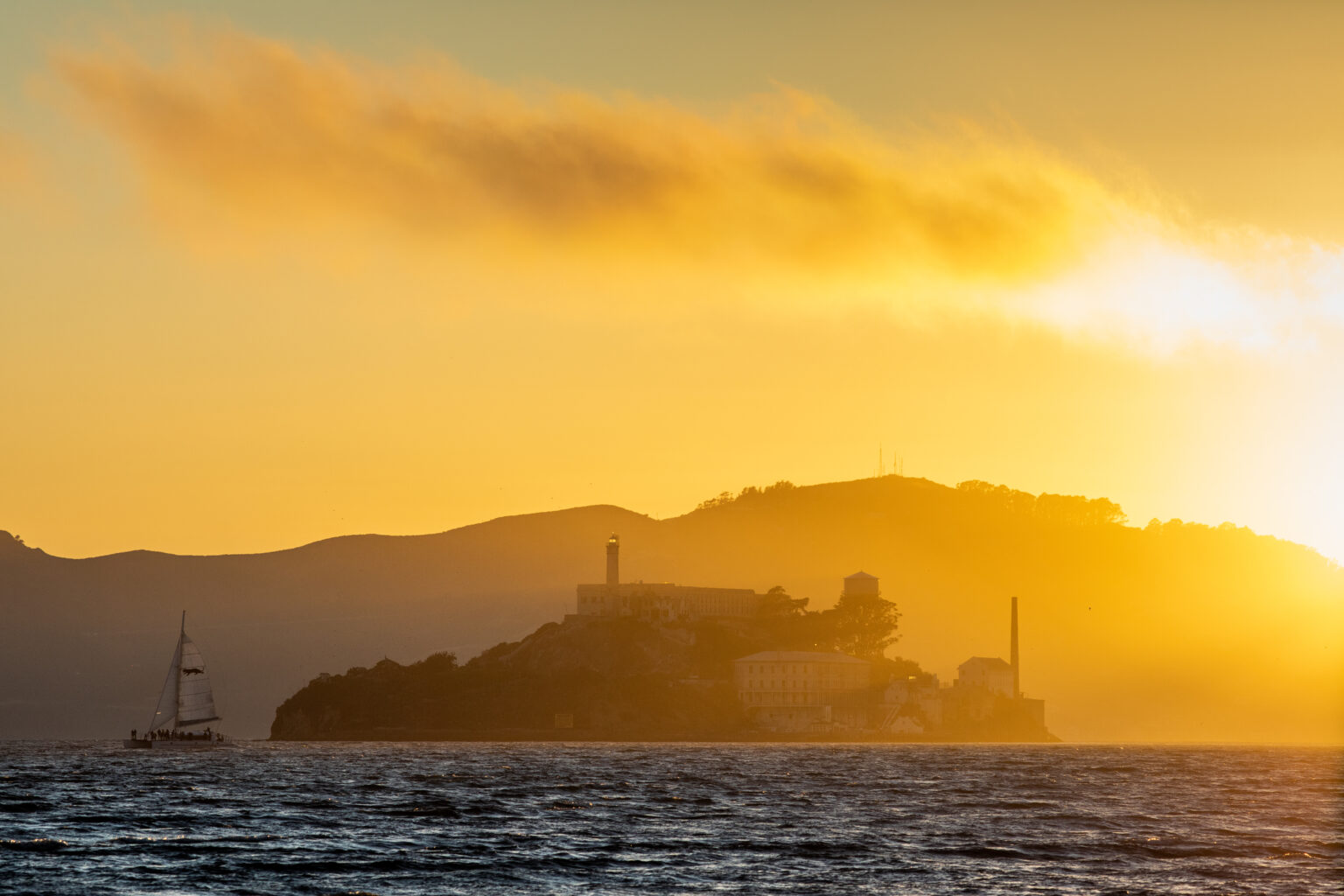 A Taste of Posh Pacific Heights
San Francisco's Pacific Heights neighborhood was camera-ready long before its stretch of Broadway from Lyon Street to Divisadero Street became known as Billionaire's Row. Home to famous names like Getty, Steel (as in Danielle), Benioff, and Ellison, the community perched at the city's highest point overlooking the San Francisco Bay has always had jaw-dropping mansions and views and stomach-dropping hills.
It also has agreeable weather and endless Instagram-worthy backdrops, which makes it a location-scout darling as well as a fantastic area to stroll, especially if you make your way to the Lyon Street Steps.
But there's much more to see. Bee-line to the corner of Steiner Street and Broadway, and you'll find the family house in the 1993 movie Mrs. Doubtfire, starring Robin Williams, Sally Field, and Pierce Brosnan. (You may have to wait to take a selfie in front of the 1893 Victorian masterpiece; it's that popular.) Stroll over to 2104 Broadway at Buchanan Street and you're at the home where rock star Johnny Boz is found murdered with an ice pick in the 1992 film Basic Instinct, starring Michael Douglas and Sharon Stone. (Watch the movie and you'll get a tour of its interior, too.) A few blocks away, 2898 Vallejo Street was the residence of Richard Chamberlain's character in the 1974 disaster film Towering Inferno (1974), starring Paul Newman and Steve McQueen, while nearby 2700 Vallejo Street has a cameo in another legendary Steve McQueen film, Bullitt. 
San Francisco Hills that Thrill
Speaking of Bullitt, even today the 1968 crime-action-thriller, co-starring Robert Vaughn and Jacqueline Bisset, is heralded as having one of the best movie car-chases of all time. Sure, nearly 11 minutes of McQueen in his fastback Mustang is part of the thrill. But the real heart-racer is the city. Its astoundingly steep hills, all backed by world-class vistas, practically beg for cars to be launched off of them. This may explain why City by the Bay car-chase movie scenes are about as common as Golden Gate Bridge destructions (Hello, Godzilla and Rise of the Planet of the Apes).
Still, there's a lot of sightseeing that comes with speeding through the 49 square miles that is San Francisco, and the white-knuckle chases of the authentically gritty 1970s-'80s Dirty Harry action-thriller franchise take full advantage. Watch all five Clint Eastwood-starring flicks and you can practically become a S.F. Uber driver, or at least see everything from shockingly uncrowded freeways, complete with the "old" Bay Bridge to the real "crookedest street in San Francisco" (hint: it's not Lombard).
While it doesn't make it on any "best of" car chase lists, one of the most amusing hopscotches across San Francisco hills can be found in the 1978 romantic comedy thriller Foul Play. Starring Goldie Hawn, Chevy Chase, and Burgess Merideth, the movie was shot all over town. But its comedic car chase celebrates the heart-into-stomach drop that is Nob Hill to Union Square. (The Rock also gets props for its law-breaking city driving, including a respectable catapult off Nob Hill along California Street.) You'll also see inside the San Francisco City Hall rotunda, which is positioned as the opera house lobby, the breathtaking Highway 1 drive just north of the city, and the still-impossibly-quaint houseboats of Sausalito.
Want a comedy chase on two wheels? Watch Ryan O'Neal and Barbra Streisand's slapstick bicycle-escape in What's Up, Doc? (1971).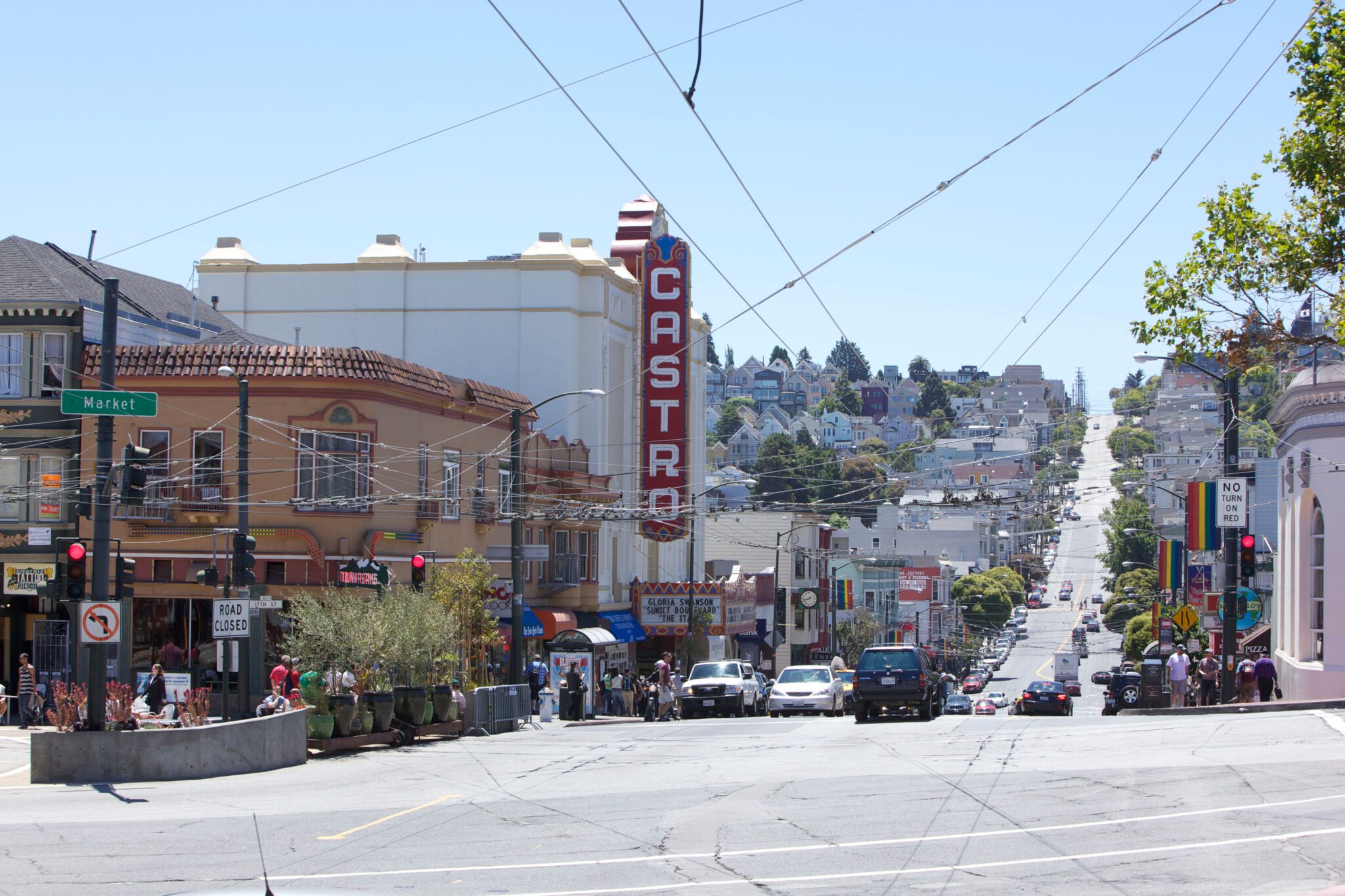 Time Capsules
If you'd like to forgo the whiplash and get a more immersive, storied San Francisco experience, you may want to break out the popcorn for films that make yesterday's and today's city the star.
You can step into its golden era of music and art with Tim Burton's Big Eyes, starring Amy Adams and Christoph Waltz. Set in the late 1950s and 1960s, the 2014 American biographical comedy-drama tells the story of a notorious local art scandal. It also allows for meandering famous spots in the charming North Beach neighborhood and the Marina's picturesque Palace of Fine Arts.
Or you can experience the social and political climate of 1970s San Francisco through Gus Van Sant's 2008 drama Milk. Here, Sean Penn leads viewers through the vivacious Castro District and the rise and demise of its legendary famed gay-rights activist Harvey Milk. It stands in contrast to Benjamin Bratt's 2009 drama La Mission, which is as much about an ex-con who discovers his son is gay as it is a love letter to the Mission District of the 1970s.
Feeling like stepping out of reality but sticking with the 1970s view? Watch the 1978 remake of the creepy sci-fi horror film Invasion of the Body Snatchers, starring Donald Sutherland, Brooke Adams, Veronica Cartwright, Jeff Goldblum, and Leonard Nimoy. Its tour of the city is prolific, with alien takeovers of humans stretching from picturesque Telegraph Hill to the Outer Richmond and everywhere in between.
If you'd like to fast-forward to today and the unease around ever-gentrifying San Francisco, it's beautifully captured in the 2019 drama The Last Black Man in San Francisco. A homage to the city itself, it's also a sentimental eulogy for what is no longer.
Famous Film Noir
It's impossible to discuss San Francisco film without a nod to film noir. It was here that Humphrey Bogart and Lauren Bacall called home in the 1947 movie Dark Passage. And in the 1958 film-noir psychological thriller Vertigo, starring James Stewart and Kim Novak, director Alfred Hitchcock leads his own midcentury meander through the city, stopping in at institutions like the Podesta Baldocchi floral shop and bygone Ernie's restaurant and landmarks like Fort Point, the Legion of Honor, and the Fairmont San Francisco.
Back to the Future
While the cost of filming in the states has slowed movie production in recent years, there are upcoming films featuring San Francisco, even in the wake of the 2019-2020 pandemic. In 2021 alone you can anticipate a cable-car encounter in the Marvel Comics film Shang-Chai and the Legend of the Ten Rings and plenty of downtown action in Matrix 4. Regardless, the city will always play a starring role in contemporary film. How could it not? There's nowhere on earth that's so uniquely striking, diverse, and seductive.