Explore
The Best Places for Scenic Photos in San Francisco
Photos taken on vacation are often the best mementos, especially if your destination is San Francisco. It's not just that you can practically feel the bay breeze, taste the exquisite meal you had, or recall the exhilarating hill-climb you took with one glance at your camera roll. It's also that few cities on earth have so many iconic, Instagram-ready vistas; essentially wherever you are, you'll find a stunning photo opportunity. Still, there are some particularly memorable backdrops worth striking a pose in front of.
Whether you want your San Francisco experience to include some "Look where I am" selfies for your Instagram, colorful sets for an on-the-go TikTok, or classic photos for your family album, put on your walking shoes, grab your camera or smartphone, and head out to any of the following locations. They all showcase just how beautiful the city is and also provide insight into why Time Out named San Francisco the number-one city in the world for 2021.
The Classic Cable Car Photo
Yes, they're touristy, but even jaded San Franciscans have a special place in their hearts for the clangy, sluggish historic cable cars. Tony Bennett is right. They do seem to "climb halfway to the stars." But in truth, they're pulled—via underground cables—up hills steep enough to make your heart pound with equal parts excitement and trepidation.
While you can capture plenty of unobstructed views of the city while aboard one of the charming 140-plus-year-old modes of local transport (which is definitely worth doing), the way to get a great cable car photo is by having someone take a photo of you hanging off of one. They stop frequently and are slow to get moving again, so it's easier than you think. However if you're not quick or agile enough for the mid-ride snapshot, you can take photos at the beginning or end of any of the cable car lines when the cars are stopped and loading passengers.
Another promising cable car photo is one taken from the street looking up toward Nob Hill from California Street near Davis Street in the Financial District. Time it right and you can capture one or two cable cars making their way up and down the steep slope leading to historic San Francisco hotels Fairmont San Francisco and the Mark Hopkins, the tracks charting their courses. Position yourself in the forefront of the photo and you've got a classic "I'm-in-San-Francisco!" moment. Just be sure to mind traffic; it's a busy area, especially during weekday rush hour.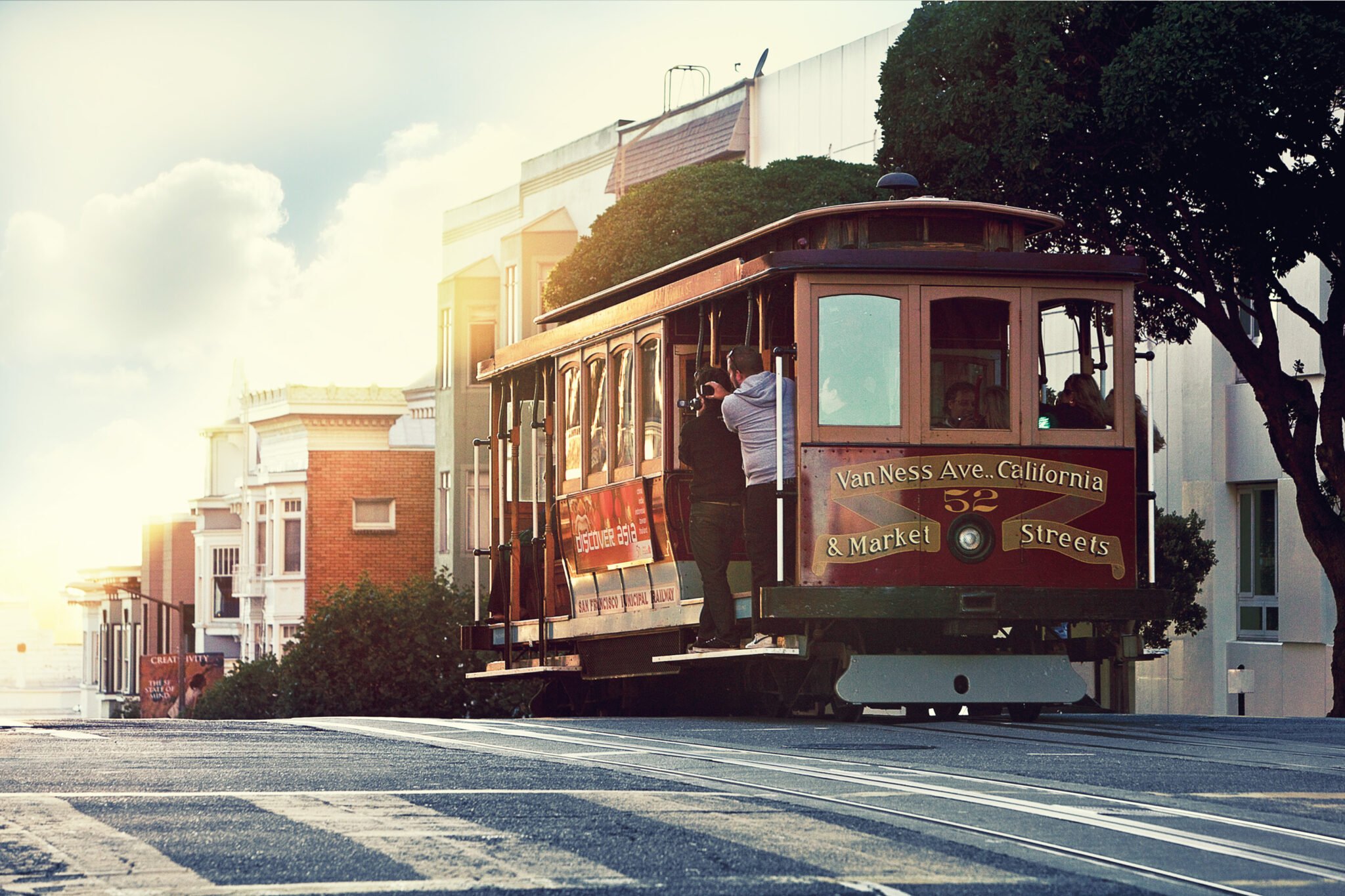 The Vibrancy of Chinatown
While you're following the Cable Car tracks, you may want to get lost for a while in San Francisco's historic Chinatown. The oldest Chinatown in North America and largest outside of Asia is, not surprisingly, home to infinite photo-worthy scenes. To avoid crowds, start early at the corner of Grant and Sacramento streets, wander the narrow alleys adorned with dangling lanterns and traditional Chinese 1900s pagoda-style architecture. Then lead yourself to any of the inexpensive, delicious dim sum or Chinese pastry houses to refuel. Or, if it's close to happy hour, walk up California Street to Nob Hill's legendary tiki bar and restaurant The Tonga Room & Hurricane Bar (yes another only-in-SF photo op).
San Francisco's Famed Row of Victorian Houses
Victorian and Eduardian homes abound in the City by the Bay. But pretty much everyone knows that Alamo Square is where to capture the famed row of gorgeous 1800s "Painted Ladies" featured in infinite photos and the opening credits of the show "Full House." Take your shots from the higher side of the park fronting the homes and you'll also include the downtown skyline in the frame. Bring a picnic and you can relax on the grass and enjoy some classic alfresco San Francisco.
The Best Golden Gate Bridge Vantage Point
You can and should walk across the Golden Gate Bridge, but you won't get the best view of the local landmark while you're standing on it or even while you're in San Francisco (though Marshall's Beach and China Beach have impressive perspectives). For the screensaver-worthy snapshot, consider heading to Battery Spencer. Located just across the bridge, in the Marin Headlands on Conzelman Road, it's where professional photographers go to capture an expansive, full eye-level view of the 1.7-mile stunner—with the city glistening behind it no less. To make the most of the excursion, wear your hiking shoes and layers and embark on the 3-mile-loop hike of the area; it was a military outpost from 1897 to 1942 and has remnants to prove it plus a charming, lesser-trodden beach called Kirby Cove, which also has an epic bridge view. You can also detour to the small coastal hamlet of Sausalito, where charming tourist shops, restaurants, and famed houseboats hug the coastline and provide further picture-perfect vistas.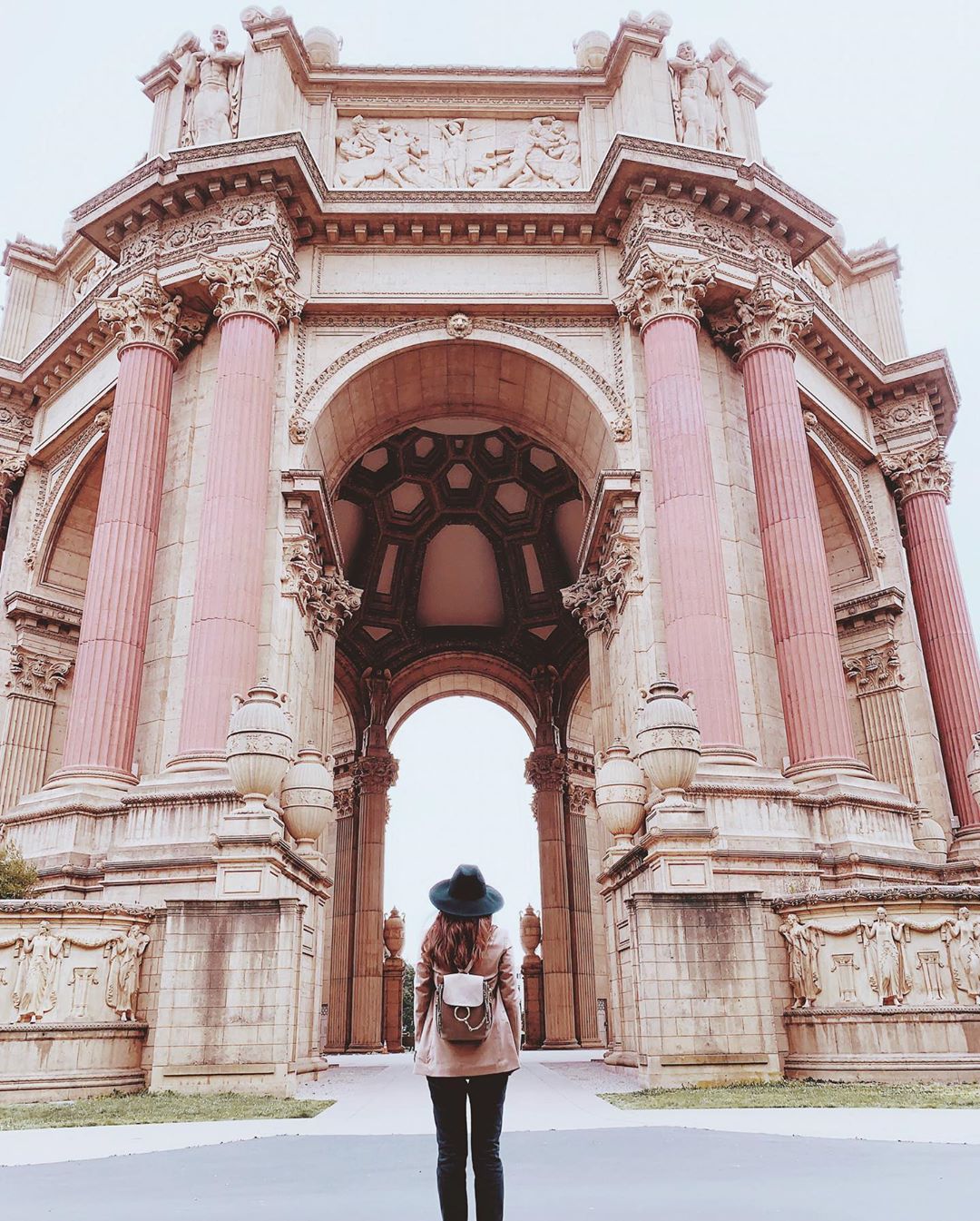 The Romantic Place of Fine Arts
Designed by famed architect Bernard Maybeck, the Palace of Fine Arts is a monumental, Beaux-Arts remnant from the city's 1915 Panama-Pacific Exposition. To visit is to step back in time into a dreamy, elegant world inspired by Ancient Greek and Roman architecture, which may explain why it's nearly impossible to visit without stumbling upon someone getting wedding or engagement portraits taken there. But it doesn't matter. Point your camera lens at the massive rotunda fronted by a greenery and a classical lagoon complete with swans. Or take selfies under the 1,100-foot pergola. From here, you may want to continue the pleasantries with a stroll by the shops and restaurants of nearby Chestnut Street.
Holiday-Card Worthy Backdrops
Union Square's Christmas tree, which is erected each year and stands around 80 feet tall, is so massive, you won't get close to capturing all of it in frame unless you're very far away. But placing your human subjects in front of a small section of the tree still produces a very cheerful holiday scene. The same is true for the lavishly adorned 23-foot Christmas tree in the lobby of Fairmont San Francisco. But don't stop there. Every year, the Fairmont constructs a stunning life-size gingerbread house in their lobby, perfect for the sweetest holiday photos. In 2021 it stands 22 feet tall and features nearly eight thousand gingerbread "bricks," more than a ton of icing, and hundreds of pounds of See's Candies décor. During your visit, take the opportunity to let the kids write and mail a letter to Saint Nick in the lobby's "North Pole Nook" while you explore the Moët Champagne bar. Or make a reservation and linger for their classic holiday tea, featuring polished silver, fine china, and Victorian accouterments served, since 1907, in the grand, Old-World environs of their Laurel Court Restaurant & Bar. Now that's classic San Francisco.