History
Fairmont Firsts: Inside The History of San Francisco's Most Iconic Hotel
With a lively past that stretches back to 1907, Fairmont San Francisco boasts an impressive list of firsts — and as the original Fairmont, that includes the property itself, whose name helped launch an international brand. Today, the luxury hotel group encompasses 86 properties that span the globe from Monte Carlo to the Mexican Riviera, but it all started here during a frenzied time in the City by the Bay.
And that's just the beginning. Classic in style and contemporary in spirit, here's how this grand hilltop hotel has made history over the years (and continues to innovate in the modern age).
The Original Fairmont
Fairmont San Francisco's thrilling origin story begins with the California gold rush and Irish immigrant James Graham Fair. Along with the hundreds of thousands of others who flocked to the West during the mid-1800s, Fair came to California with golden ambitions. Instead, he found his fortune in the silver mines of Nevada and soon reaped a life of wealth and political influence in booming San Francisco. He purchased a plot of land atop Nob Hill, home to the ornate mansions of railroad tycoons such as Leland Stanford and Charles Crocker, with plans to construct a palatial estate. Though he didn't realize these dreams during his lifetime, following Fair's death in 1894, the land was passed to his daughter Tessie. Along with sister Virginia, she eventually fulfilled their father's vision, constructing a majestic hotel named after Fair, taking the family name (Fair) and the hotel's location on top of a hill (Mont) to create the stately moniker.
The highly anticipated hotel was scheduled to open the morning of April 18, 1906, but at 5:12 a.m., a massive 7.9 earthquake rocked San Francisco. While the Great Quake felled thousands of buildings, Fairmont San Francisco survived relatively unscathed, and even served as a temporary command post for city officials. However, twenty-four hours later, the hotel's lavish interiors were gutted by a fire that consumed much of the city.
One year later, under the direction of Julia Morgan, California's first female licensed architect who would later design Hearst Castle, Fairmont San Francisco became the city's first major business to open following the quake. It threw open its doors with an extravagant fête featuring 13,000 oysters, rivers of champagne, and a night sky aglow with bursting fireworks. It was an opportunity for attendees to toast not just the hotel, but the rebirth of San Francisco. Hence, Fairmont San Francisco would come to be known as "a hotel so grand they built a city around it."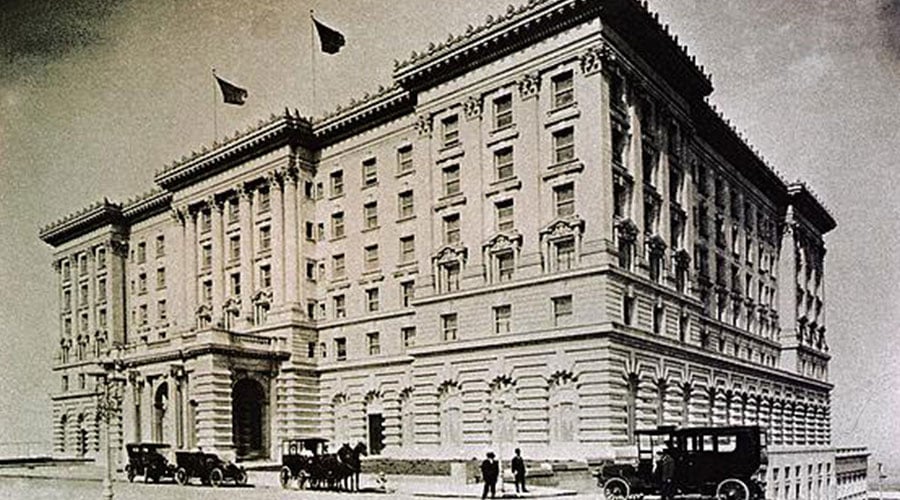 The Nation's First Hotel Concierge
One of the people who tells Fairmont San Francisco's story best is Tom Wolfe, who not only became the first concierge at the hotel, but within the entire United States. Before arriving at Fairmont San Francisco in 1973, Wolfe had worked alongside notable concierges in London and Paris, and in short time, he would bring those practices to Fairmont San Francisco and go on to found the U.S. branch of the renowned concierge association, Les Clefs d'Or.
From presenting an eyelash-batting Marlene Dietrich with post-performance flowers to separating M&Ms by color, Wolfe has seemingly fielded every request imaginable. "My wife jokes that I don't get unusual requests anymore because I've already done it all," he says. One of Wolfe's more peculiar requests was securing a rare sports car. "After relaying a list of relatively commonplace requests, a guest suddenly turned on his heel, and asked me if I could track down a Ferrari GTO," remembers Wolfe. Fortunately, Wolfe was a car buff, and knew of the rarified vehicle. "They're amazing cars, but hard to find," he said. "I was able to locate one that day, and the guest motored happily ever after."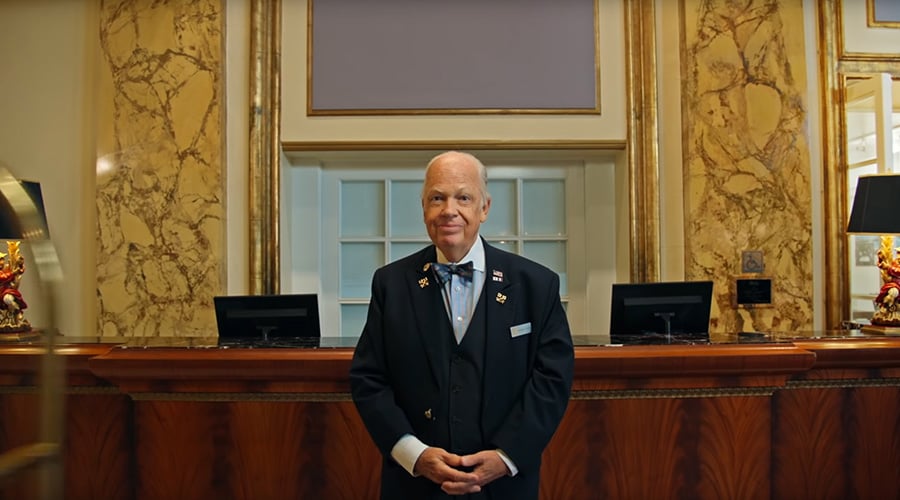 The First Time Tony Bennett Sang "I Left My Heart in San Francisco"
From the 1940s to the 1970s, Fairmont San Francisco's glamorous Venetian Room was the place to be with lush red interiors, a swinging house orchestra, and jacketed waiters whisking about candlelit tables. In December 1961, a well-dressed crowd at the fabulous supper club became the first to hear Tony Bennett serenade them with what would become his signature tune. Since that night, Mr. Bennett and Fairmont San Francisco have enjoyed a special bond.
"Of all of the show biz people I've met, he's at the top of the list for being so sweet and kind," says Wolfe, who once got the opportunity to introduce Bennett when the regular announcer was struck with laryngitis.
In 2016, Fairmont San Francisco hosted Bennett's 90th birthday and unveiled an 8-foot-tall bronze likeness of the singer, which stands in front of the hotel. On that day, Mayor Ed Lee declared August 19th to be "Tony Bennett Day," and a local ice cream shop scooped the Bennett-inspired flavor "Duet" with limoncello and biscotti in a nod to the crooner's Italian heritage. Two years later, Fairmont San Francisco, along with the City of San Francisco, renamed the stretch of street that fronts the hotel as Tony Bennett Way, and christened it with a celebrity-studded block party. Yet, it was Bennett's entrance that wowed the crowd, as he — or rather, a stuntwoman dressed as Bennett — rappelled down the front of the hotel to excited cheers below.
Today, guests can leave their own heart in San Francisco by booking Fairmont San Francisco's Diplomat Tony Bennett Suite on the 22nd floor of the Tower Building, which offers panoramic views of the city so beloved by the legendary singer, along with original artwork from Bennett himself.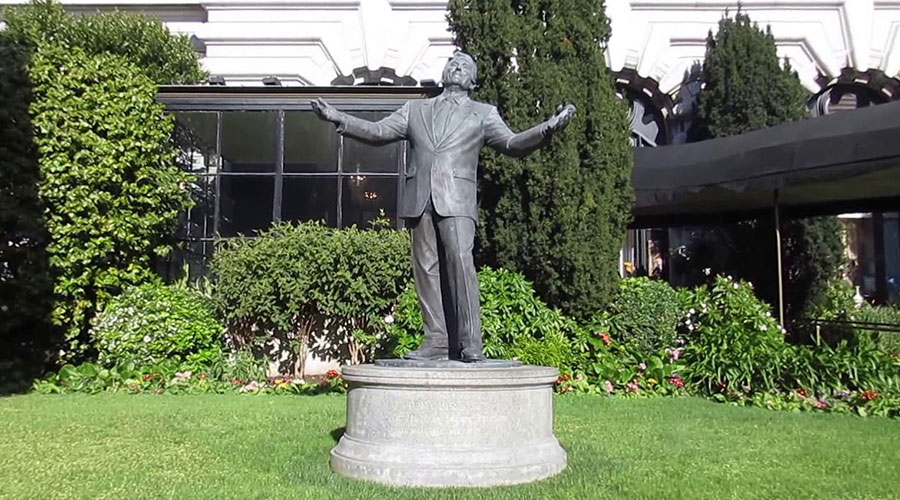 San Francisco's First Post-Prohibition Cocktail Bar
After Prohibition was repealed in December 1933, Fairmont San Francisco's Cirque Room was the first spot to open for thirsty San Franciscans to enjoy a cocktail. Designed by celebrated Bay Area architect Tim Pflueger, who spearheaded numerous Art Deco gems throughout the region including Oakland's spectacular Paramount Theatre, the stunning lounge sparkled with gold-leaf murals by artist Esther Bruton. Against a glinting gold background, Bruton, with the help of her sister Margaret, filled the walls with scenes of acrobats, ringleaders, and a cavalcade of circus animals. Plus, there's a hidden Mickey Mouse that only eagle-eyed observers will spot.
In 1959, the Cirque Room was shuttered, its lush interiors and golden murals hidden away. But not for long. In 1981, Fairmont San Francisco reopened and refurbished the space, even bringing in the Bruton sisters to help restore the murals to their original luster. Today, in addition to serving as a visually striking private event space, Cirque hosts a nightly wine and cheese reception for guests. Plus, the public can enjoy a drink within its gleaming Deco surroundings during regular "Cirque + Square" parties that spill over onto the nearby Rooftop Garden, as well as each December when Cirque transforms into a festive Holiday Bar.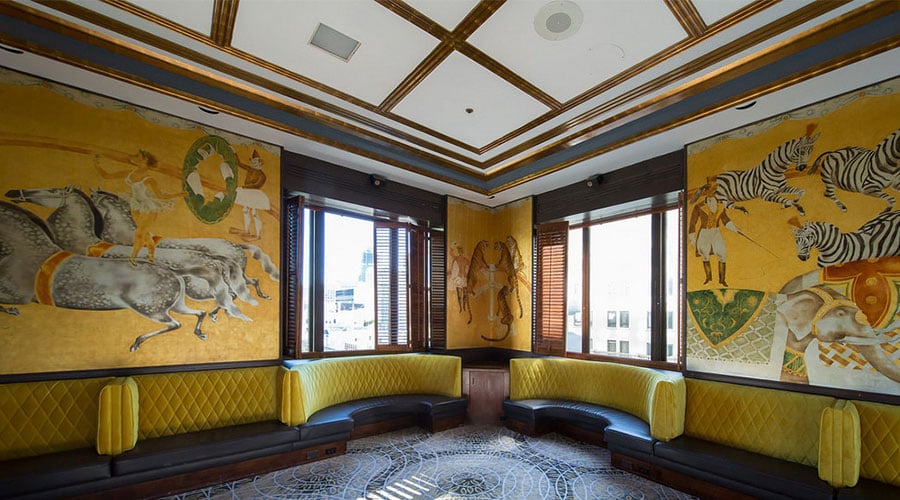 The First United Nations Conference
As leaders and delegates from fifty nations descended upon San Francisco for the inaugural United Nations Conference on International Organization during the summer of 1945, Fairmont San Francisco played a role in the formation of the new global peacekeeping organization. The idea for the United Nations was formed during the throes of World War II, and President Truman's Secretary of State, Edward R. Stettinius Jr. suggested that delegates draft a charter in San Francisco. While some of the assemblies took place at San Francisco's Opera House and Veterans Building, smaller gatherings were held in Fairmont San Francisco's Garden Room where, today, a plaque commemorates the launch of the UN charter. Stettinius spent the summer in Fairmont San Francisco's magnificent Penthouse Suite, displacing heiress Maude Flood who famously remarked that the next time she left Fairmont San Francisco would be in a pine box. Apparently, Stettinius' lavish quarters were the preferred spot for VIPs to gather after the day's formalities, and mingle over cigars and brandy.
On June 25th, 1945, Truman arrived at Fairmont San Francisco to greet the delegates amidst great fanfare. Later that evening, the United Nations' much-debated charter was formally approved, and it was signed by delegates the following day. San Francisco had so wooed its international visitors that it made the short list for the United Nations' permanent home (though it ultimately lost out to New York). Today, the flags of every nation represented at that historic meeting fly above the hotel's grand entrance. Over the years, dignitaries have reportedly requested that a rival flag be removed during their stay, yet Fairmont San Francisco has stayed true to the UN's charter, politely declining and letting all the flags wave.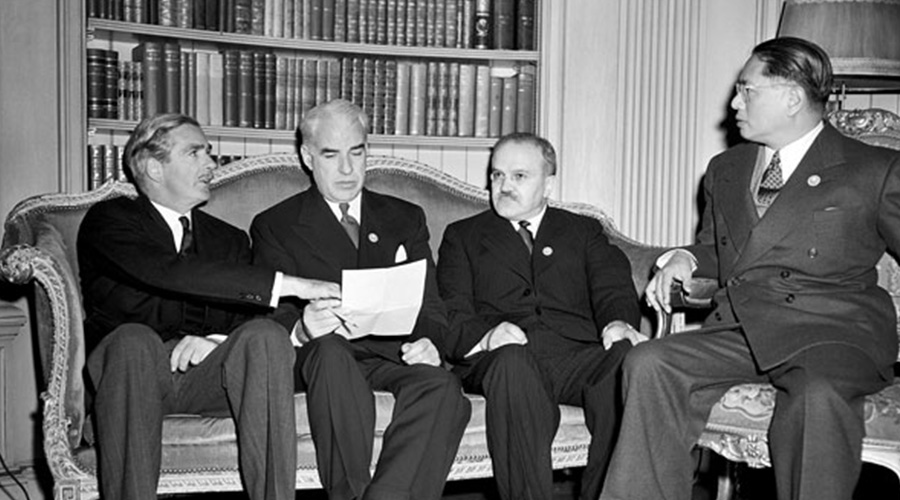 Fairmont San Francisco continues to make history. It was one of San Francisco's first hotels to offer internet access, and more recently, partner with an autonomous vehicle company to transport guests. It was also one of the first hotels in the city to establish a rooftop culinary herb garden, complete with honey beehives — installed in 2010 in partnership with Marshall's Farm, the goal of these beehives is to help combat the worldwide collapse of honey bees. (And, much to guest's enjoyment, this local and sustainable honey can be found throughout the Fairmont's dining menus.)
Come visit this iconic and historic hotel on the hill, and enjoy a captivating glimpse of San Francisco's past, present and future.