History
The Evolution of Tiki Culture in San Francisco
Peek beyond the stately Beaux Arts exterior of Fairmont San Francisco, and you'll discover a kitschy-cool paradise complete with a glowing lagoon and thundering indoor rainstorms. Hidden below the lobby on the property's terrace level, Tonga Room & Hurricane Bar is regarded as one of the grandest tiki destinations across the globe — famously, Anthony Bourdain even referred to it as "the greatest place in the history of the world."
Swathed in thatched huts and towering ship masts, Tonga Room has enchanted visitors (including the beloved Bourdain) with its exotic cocktails and Asian-inspired nibbles for decades. The lava rock landmark embodies the history of tiki culture, and has inspired a burgeoning tiki revival in San Francisco and beyond.
Opened in 1945, one year after the world's first Mai Tai was poured in nearby Oakland, CA, the 75-year-old Tonga Room continues to pack its richly decorated interior with regulars and first-time visitors alike. That's no small feat in food-obsessed San Francisco, where dining trends change yearly. Sure, dishes have kept current with the times — today's diners can enjoy crispy kalua pork tacos, ahi poke tostadas, and cauliflower fried rice — but the Tonga's magical allure transcends the menu.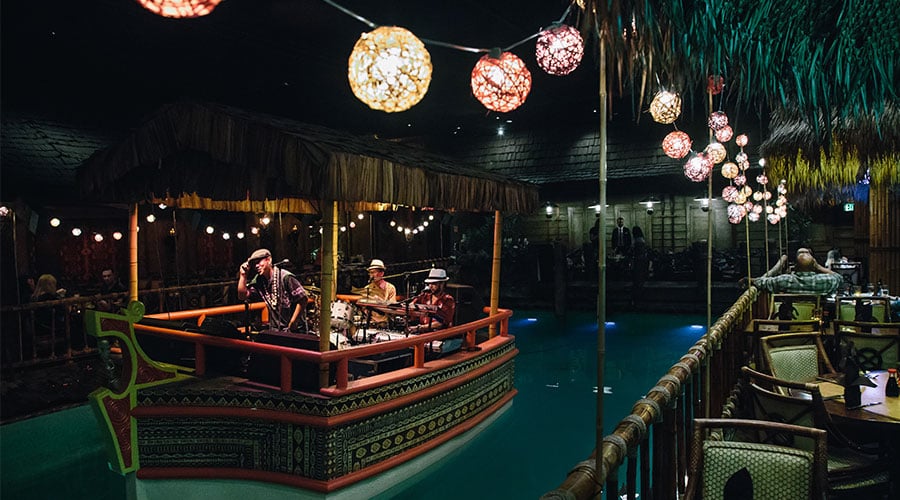 "The Tonga Room is frequented by visitors from all generations because it provides an experience beyond food and drink," says Sven Kirsten, tiki scholar and author of numerous tiki tomes, including the seminal Book of Tiki. "It's a prime example of a Polynesian Pop-theme restaurant that, despite never being recognized by art and architecture critics in its heyday, was loved by the people."
Like much of American pop culture, the tiki bar concept was born in Hollywood. In the years following Prohibition, the burdens of the Great Depression and a scarcity of commercial air travel each contributed to the seduction of a Polynesian escape — real or imagined. Donn Beach (neé Ernest Raymond Beaumont Gantt) is credited with inventing the tiki aesthetic with the opening of his Don the Beachcomber bar in 1933, which immersed diners in tropical decor and rum-fueled creations such as the Zombie and Navy Grog. Four years later, Beach's success led competing restaurateur Vic Bergeron — who would go on to create the tiki bar's signature drink, the Mai Tai — to rechristen his Oakland bar and eatery as the South Seas-inspired Trader Vic's. The tiki craze was on, and soon after, every major U.S. city would have a tropical-inspired refuge to sip exotic drinks and feast on gussied-up versions of American-Asian plates.
In 1945, the Fairmont tasked famed MGM set designer Mel Melvin with transforming the hotel's indoor pool — a celebrity magnet dubbed the Terrace Plunge — into a restaurant and bar that mimicked a pool deck on a luxury cruise ship. With parts salvaged from the S.S. Forrester, a lumber schooner that sailed from San Francisco to the South Pacific, Melvin decked the new themed eatery with lifeboats, metal air vents, and life preservers. The pool remained the centerpiece, but a small boat was added to host musicians who serenaded diners. In the 1950s, the dining room's nightly thunderstorms were installed, showering the pool with downpours, flashing lights, and thunderous booms every thirty minutes. By the late 1960s, the Tonga Room was reimagined once again into the tiki masterpiece you see today.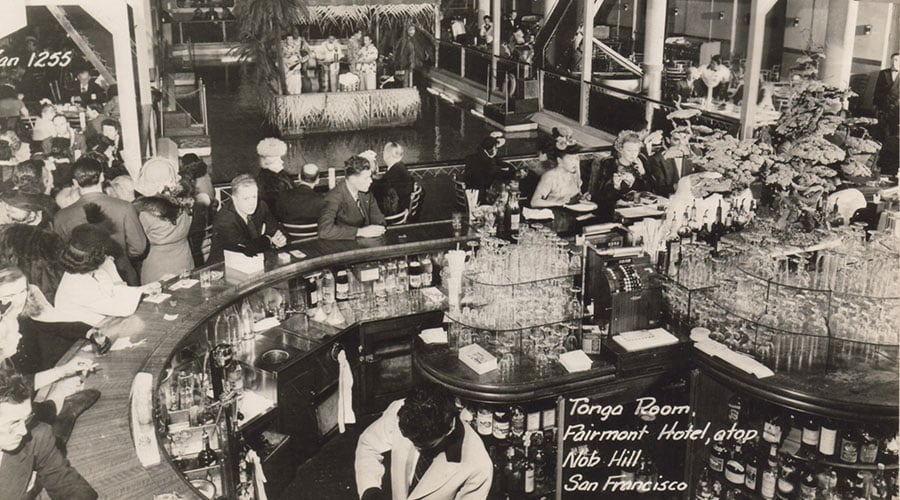 At the time, Tonga Room was one of many tropical-themed destinations in San Francisco, yet it's outlasted nearly all of its contemporaries. Today, the trend is back with numerous modern, faux-Polynesian bars that tip their hat to the tiki spots that have come before.
At Smuggler's Cove, a snug tiki bar that opened in 2009 with an encyclopedic rum collection, the drink menu reads like a history of tiki bars and their cocktails. Amidst glowing glass floats and a rippling fountain, you'll also find diorama-like shrines that honor long-shuttered San Francisco tiki institutions such as Tiki Bob's and Skipper Kent's. "We are so thankful that the Tonga Room is not represented by one of those shrines," says owner and tiki aficionado Martin Cate. "The Tonga Room offers guests an opportunity to step out of the city and into a tropical wonderland, complete with its own weather."
In downtown San Francisco, just down the hill from the Fairmont, you'll discover two other modern-day bars that pay homage to San Francisco's tiki legacy. Local bar group Future Bars made a name for themselves with impeccably decorated themed bars such as their neo-speakeasy Bourbon and Branch. In 2016, they swapped the suspenders for aloha shirts with Pagan Idol, which opened on the site of a former tiki bar, Tiki Bob's Mainland Rendezvous. With an erupting volcano and virtual fish swimming by portal windows, the group's tiki bar proved such a hit that, three years later, they opened Zombie Village, a tribute to a 1944 Oakland tiki bar of the same name.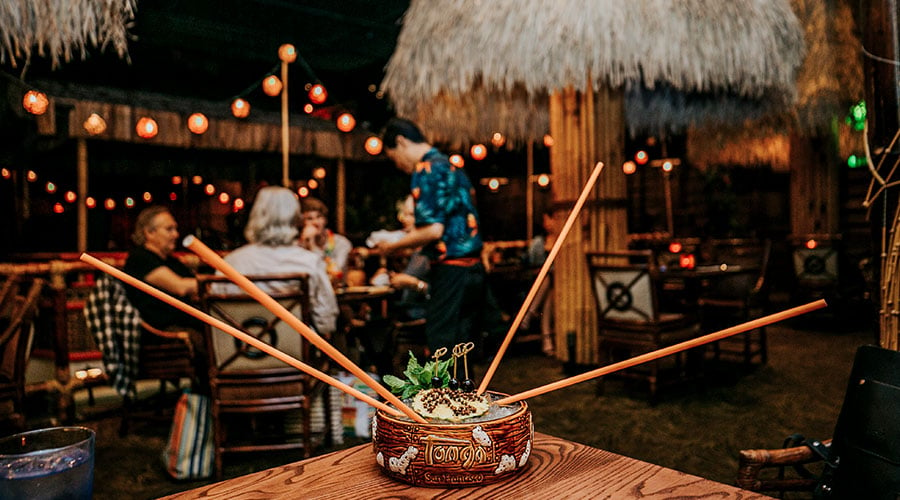 Yet, no Bay Area tiki crawl is complete without a stop at the Tonga. Swing by during weekday happy hour for discounted bites and classic tiki cocktails such as the Fog Cutter and Trader Vic's Mai Tai. And just as has taken place since 1945, an evening band, The Island Groove, boards the floating barge to perform as guests flock to the original dance floor fashioned from the reclaimed deck of the S.S. Forrester. "The Tonga Room remains a San Francisco treasure filled with real nautical antiquities that have delighted generations," says Cate. Want to take home your own piece of the venerable tiki bar? Order a Hurry Kane— you can keep the glass.