Holidays
Inside the Making of a Two-Story, Larger-Than-Life Gingerbread House
Each October, painter Larry Walton puts down his brush and embraces a new temporary role: gingerbread house animator.
He's part of the engineering team that spends 520 hours each year building, lighting, and outfitting a life-sized Victorian gingerbread house in the lobby of Fairmont San Francisco. More than 8,000 baked bricks cover the two-story structure, which stands at 25 feet high, 35 feet wide, and nearly 11 feet deep. Pastry then dedicates 450 hours to decorating those bricks with icing and sweets. By the numbers, it's an astounding feat — and just as impressive to marvel at in real life.
Builders introduce new details each year, and families build holiday traditions around tours of the awe-inspiring display. "This year, I made a model Lombard Street and cable cars that move over the Golden Gate Bridge," shares Walton. "It's a whole new structure that took five days to build."
Visits from Santa and a champagne bar round out Fairmont' San Francisco's engaging schedule of seasonal events, and through it all, the gingerbread house remains central to every celebration. Here's an inside look at how it all comes together.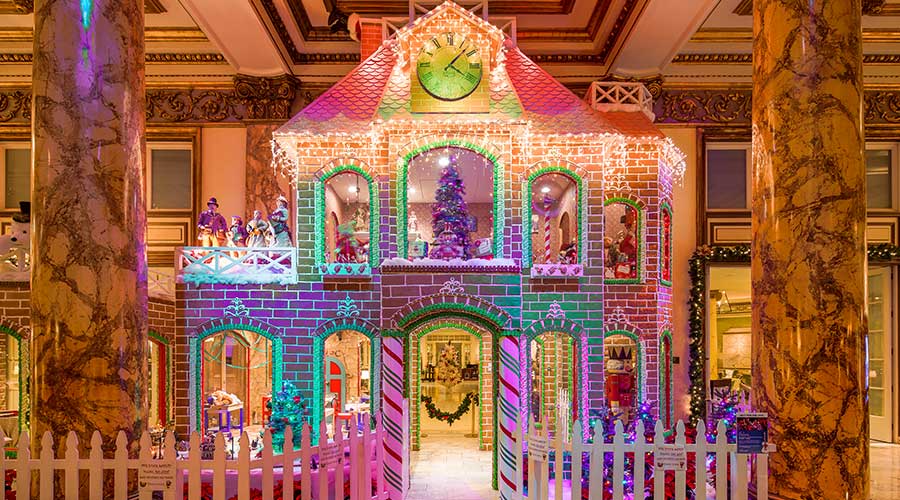 The Construction of a Holiday Classic
Fairmont engineering and culinary teams begin planning the gingerbread house in July, which is also when crews begin baking 12- by 4-inch gingerbread bricks to cover the home's wooden frame.
As the holidays draw near, builders frame the rooms, set the roof, and prepare the structure for decorations. "When it's complete, each gingerbread brick gets placed by hand, and the pastry people pipe icing along every single grout line," Walton says (that icing requires more than 1,000 pounds of powdered sugar and around 150 gallons of egg whites).
Teams then tackle the sweet job of outfitting the gingerbread house with candy, from Peeps to gumdrops to strands of Nerds Rope in all colors of the rainbow. There are candy canes, of course, and in past years, designers have attached individual Hershey's Miniatures bars to the walls with icing. When it's complete, more than 1,900 pounds of candy adorn the Fairmont's gingerbread house.
Walton, a self-described tinkerer, also creates magical holiday accents for the house, often from everyday items. He turns industrial air filters into snow-dusted hills, and motors salvaged from office shredders and windshield wipers power reindeer rocking chairs and swirling snowflake mobiles. His hand-cut shadow puppets even star in a holiday video aired inside the house.
As any avid baker (or Great British Bake-Off viewer) will know, sometimes, there are mishaps in creating a confectionary masterpiece — one year, the lobby lights even melted the home's chocolate-covered roof. But unexpected surprises (both planned and accidental) charm hotel guests and public visitors alike throughout the season.
After the holidays, Walton removes the interior electronics and teams tear down the structure. The framework gets recycled, and the bricks, candy, and other edible ingredients are composted. The Fairmont lobby returns to normal, but the holiday spirit lingers until the next season.
"The gingerbread house is definitely a challenge, but we're all glad to be part of the project. To watch kids light up as they explore, and to see adults marvel at the little nuances, is all really incredible," Walton says.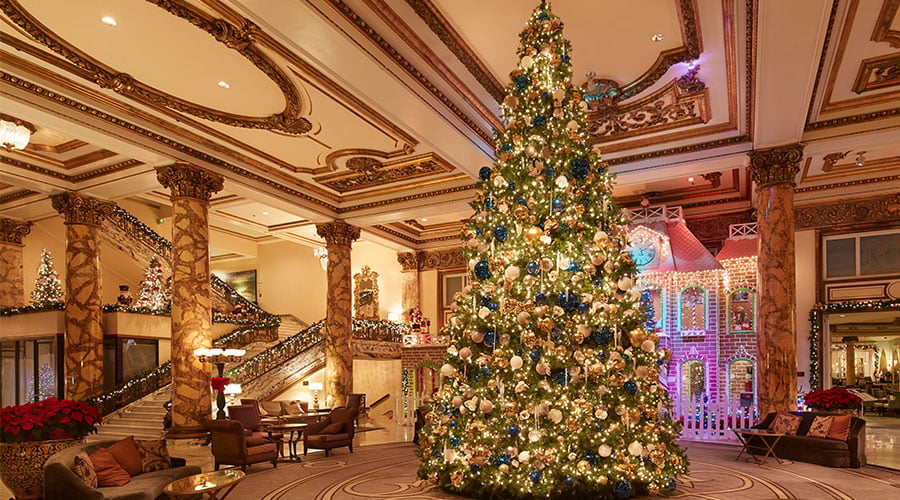 More Holiday Magic
The Fairmont's gingerbread house sits beside a dazzling 23-foot Christmas tree in the main lobby, surrounded by a festive holiday train and other seasonal decorations. Twinkling lights and garland grace the central stairway, and smaller trees, snowmen, and scarlet poinsettias brighten mezzanine spaces. Santa swings by to collect holiday wishes from children of all ages and pose for photos.
Charitable giving also figures into the festivities. Through the Fairmont's Trees of Hope campaign, the hotel collects donations for Make a Wish in a dedicated box near the gingerbread house.
For those staying at the hotel, Fairmont San Francisco's exquisitely decorated Santa Suite, available to guests through January 3rd , bundles overnight accommodations with breakfast for up to four registered guests, access to classic holiday movies, an in-room candy and hot chocolate bar (with an adult beverage for parents), and a personal a gingerbread house kit.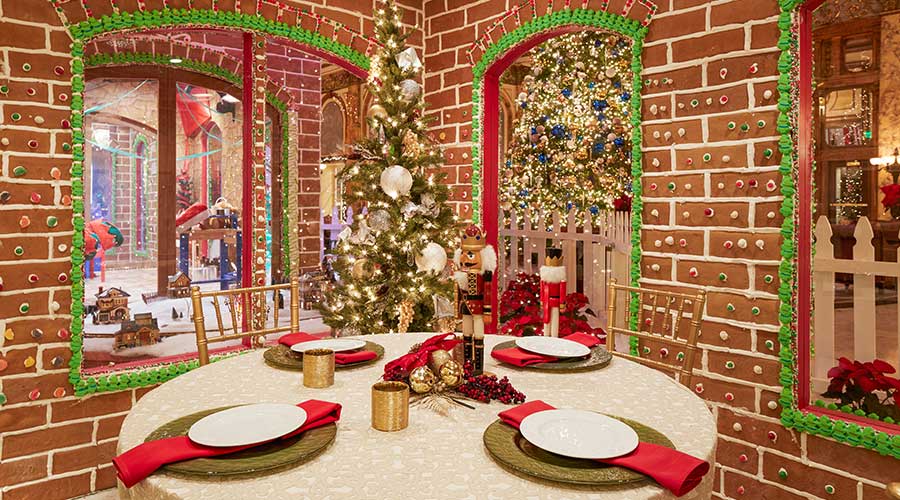 Seasonal Celebrations
A private dining space in the gingerbread house also welcomes groups of up to 10 for afternoon tea, dinner, or other special celebrations. Two daily seatings of the Holiday Tea take place in Laurel Court throughout the holiday season as the popular gingerbread house Moet & Chandon champagne bar sparkles in the adjacent lobby.
A Christmas Eve dinner and Christmas day brunch buffet (complete with a visit from Santa) will be set up in Laurel Court. Guests can also ring in the New Year in Tonga Room & Hurricane Bar with a festive Luau. Of course, it's complete with a Champagne toast at midnight to celebrate the end of another festive season in San Francisco.
For more information, full menus, and celebration details, please visit Fairmont San Francisco.